Hi Folks. We are pleased to announce that we should be able to resume tailwheel instruction and endorsements at the exact same pricing and with the same equipment (Citabria 160 hp GCAA) by fall of 2019.  Our instructor is completing his own ATP certification right now and should be aboard shortly. Please stay tuned. Our prior instruction received accolades within the region for both the quality of the course, quality of the equipment and the pricing. We'll be back up and running shortly. If you wish to send us your name, email address and phone number, we'll contact you as soon as we're back up and running. Send us a text at 206-730-1064.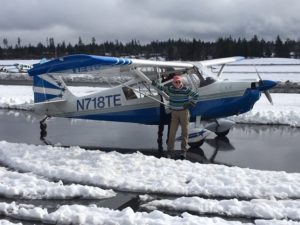 Tailwheel training through endorsement in Citabria 7GCAA with 160 hp engine: 175.00 per hour (includes fuel).
Instructor pricing at "peak season:"  50.00/hour*
*Our instructors receive the full amount that is charged rather than a percentage going to Olde Thyme Aviation. If an instructor wishes to discount during off season/lower demand periods, this is negotiable between the student and instructor.
For appointments and scheduling for tailwheel instruction, contact