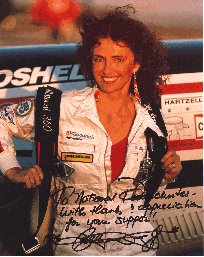 PATTY WAGSTAFF — 3-time US National Aerobatics Champion and professional air show  pilot says "I LOVE MY NATIONAL"  (so will you)!
Patty is very happy about the added comfort on her "A Harness Option"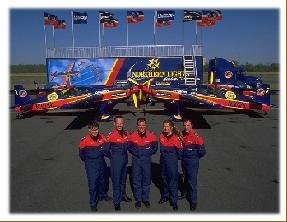 THE NORTHERN LIGHTS Aerobatic Team
recently replaced their aircraft and outfitted the new fleet with NATIONAL PARACHUTES. Team leader, Andre Lortie, chose our new " A" Harness option for the team.  They appreciate the improved comfort combined with the convenience of a "standard harness" configuration.  Consider this no-additional-charge comfort option on your next parachute!
Have you considered an emergency chute for aerobatic purposes?
Remember, FAR(s) require a parachute for both pilot and
passenger when performing aerobatic maneuvers.
The biggest problem pilots have in choosing a suitable emergency parachute is not having the ability to try on the different "packing configurations" inside their own planes before selecting a model.
For example, in our Stearmans we use the "seat packs" because you cannot afford to be pushed forward towards the stick.
Citabrias and Decathlons use the "backpacks" and Pitts, Yaks and Warbirds use the contoured "chairpacks".
Olde Thyme Aviation, Inc. is your Northwest dealer for NATIONAL PARACHUTE. National Parachute has the best reputation for quality, workmanship and service.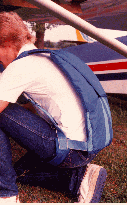 National's Back Pack was developed with the pilot in mind and is our most popular model.  The teardrop shape provides flexibility and maximum comfort even in the tightest cockpits.  The shape and size make this model the most all-around universal parachute.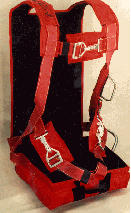 National's Seat Pack is especially desirable when the cockpit has more vertical space than horizontal. For added comfort, the seat pad has one inch of "Astronaut Foam" above the parachute container (user accessible/adjustable via Velcro closure).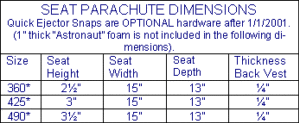 At Olde Thyme Aviation ® , we stock each "packing configuration" in every size at our hangars in Seattle Washington.
Contact us at our daytime (0800 to 1800 PST)  phone number  (206)-730-1412 to arrange a meeting at any of five airstrips in the Seattle region. Ask for Ken.
"Try before you buy" is our motto.  We will provide you with the models and sizes you request.         Put on a parachute and sit in your plane.   How does it feel and does it change your posture in the cockpit? Isn't this a much better way to buy such an important item?
To select the model of parachute you would like to try,  review the styles above or go to the NATIONAL PARACHUTE web site at www.nationalparachute.com and read the descriptions of all the models. Then contact us to arrange for your fitting.
Professionals, when choosing a parachute, demand comfort and reliability. They also require top quality, lightweight and low bulk. It is easy to understand why they fly with NATIONAL, the parachute of choice.
Call Toll Free Today
(206)-730-1412  or 206-730-1064  and get your free fitting so you can fly with protection and comfort.