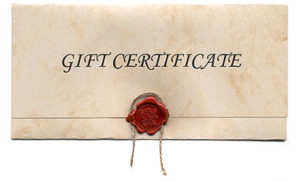 GIFT CERTIFICATE RIDES AND PROCEDURES
What better present for Christmas, birthdays or Father's Day than a Gift Certificate to fly in an authentic antique biplane with a partner or solo!
Gift Certificates are available for four of our six flights by purchasing them at our staging table on the weekends at the Museum of Flight, or by texting 206-730-1412. We do not return any calls on this phone number unless it is to write up a Gift Certificate and send it to you. Please read the ride descriptions and know which one you wish to purchase when you call this number! We can take a Visa or MC card # and we'll send the Gift Certificate right out, or, you can send a check made out to Olde Thyme Aviation, Inc after selecting the ride you wish to purchase from our website (see rides). Sorry, but we do not offer a Gift Certificate for the shortest ride (Space Needle/Elliott Bay). This is because a Gift Certificate holder may be accommodated on an appointment basis during the week if he or she wishes. We cannot afford to bring our planes across the Sound for a single appointment/ride on a 99.00 ride. Therefore, Gift Certificate rides are sold for the Extended Downtown Scenic Flight or longer.
The absolute quickest way for us to get a Gift Certificate out to you is to use our FAX number 360-674-7123 Put down everything you know that we'll need including bankcard #, (please add the 3 digits above your signature on the back of your card for anti-identify thief safeguard expiration date, your address, name of ride and person to whom the Gift Certificate is to be made out to. Don't forget who it's from. FAX it to 360-674-7123. We'll get the Gift Certificate out to you the next day. Do not send your credit card number to our e-mail or leave it on the voice mail. Only send it to us on the FAX.
Our Gift Certificates are printed on 8 1/2 X 11 parchment looking paper with a place for who the ride is for, who the gift is from, and the name of the ride. The recipient of the gift can simply turn the sheet over and see all of our rides listed plus instructions on how to use the Gift Certificate. There are no prices listed on the back of the Gift Certificate where the rides are described.
Gift Certificates are not redeemable for cash. They are transferable.