Airplanes For Sale
Olde Thyme Aviation, Inc has been flying scenic biplane rides in delicious restored vintage aircraft for a full twenty five years now. While we certainly don't anticipate closing up the business in the near term, it is becoming clear that we are aging and someday will want to be "winding down" a bit.
After we use a plane for a lengthy period of time, we have it totally restored to our personal expectations. However, prior to putting a plane back into service for rides, we offer it for sale to see if we can find an interested buyer. So, as you read below, you will find totally restored planes that have not been flown at all in the ride operation; fully restored planes that are currently in service, planes that are close to being taken out of service for restoration and planes that are in the restoration process in case anyone wants to "step in" at a crucial point where they can control the final finish (i.e. colors, etc.). Each plane has a unique story and set of circumstances. I attempt to explain how each plane was selected when we purchased it originally, whether it was for its specific history or the quality of workmanship at the time we bought it.
We always shop for planes based on the quality of the wood work, fabric and AIRFRAME. We do not shop for a plane based on its power plant as we assume automatically that whatever engine is on it, regardless of how it is represented, we will not fly it. For example, when we purchased the 1940 Waco UPF-7, we flew it to Salinas and pulled off the Continental Engine and replaced it with a newly rebuilt from Gold Coast Aviation simply because we have a personal knowledge of the workmanship, reputation and dependability that we can trust. The engine that we "scrapped" only had 45 hours on it, but we didn't have personal knowledge of how it was built! We never fly an airplane with the power plant that it is represented with unless we have had it built to our own specs or had it taken apart by our own AI.
HAMILTON STANDARD PROPELLERS FOR SALE
Note: We do not buy propellers for investment or speculation. These are propellers we have bought for our own planes for use at the Museum of Flight in Seattle. As we have sold off our Travel Airs, one Cabin Waco and one Stearman, we are able to release extra propellers that we had purchased over the years and had overhauled for ourselves. What you see them listed at for sale is exactly what we have in them including original procurement cost plus the overhaul at either AC Propeller in Seattle or Northwest Propeller in Puyallup. A few of them were previously overhauled in which case they were "inspected" for us before purchase by NW Propeller.
2B20-15, polished, Zero Time full overhaul by AC Propeller-Seattle w/YT 7,500*
5404 Hub, Ground Adjustable Navy Contract Blades #4651, 102″ length, overhauled w/ YT 50 hours of use. Same as Hamilton Standard 1301 27C1 rated at 165 horsepower per blade (330HP Max). Can be 337'd on any vintage airplane such as Travel Air, Waco, Stinson, N3N etc. Is not on the Stearman TC but we know several people that have used this on Stearmans with no problem. Currently stored at NW Propeller ready to ship: $ 9,500.
McCauley Propeller 102″, 410-5926 with SS135-6 blades, fully overhauled, all ADs in compliance, Zero Time. $ 7,500.
Curtis Reed Propeller, 96″ inspected and dye flow tested by Northwest Prop: $ 10,000.
5006 Hub, Ground Adjustable Hub. Will hold 4350 blades or other models for use on 20 spline aircraft with max horsepower of 250 HP. $ 3,500.
.
Cabin WACO FOR SALE: 1933 UIC Full Restoration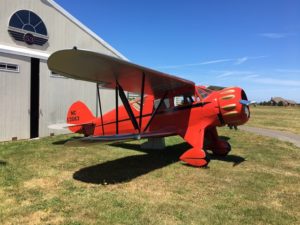 1933 UIC Cabin WACO: Full Restoration
This plane has a unique history and is the main reason we acquired it. John Aldrich was the previous owner who was well known as the founder of the West Coast Waco Association. Prior to his accident (not in a plane), he had approached me to purchase his "baby" as he knew of my interest in this particular plane because of its earlier history. This plane was built for Captain James Hancock whom founded and owned Hancock Oil in Southern California and is also well known as the man whom donated "Hancock Park" in Los Angeles to the County which contained the La Brea Tarpits: a destination known to all grade school kids growing up in LA. Later Captain Hancock operated one of the CPT schools at Santa Maria, California——owned the Santa Maria Railroad (the reason for the match between his Cabin Waco and the Trail in the painting above). oday The airport in Santa Maria is known as Hancock Field because of his philanthropy and that of his wife after Captain Hancock passed.
This airplane was totally disassembled for a full restoration starting with the bead blasting and epoxy on the airframe; all new wood on the fuselage; new ribs and fittings as needed in the wings; restoration of the original "Air Brake" system, etc. However, we improved the handling characteristics with a Cleveland 210 brake system (no Johnson Bar challenge). The interior is done in Full Grain Leather. Fabric was painted in original Waco manufacturing colors of Vermillion Red on Fuselage and Silver/Gray on the wings. The com is the enhanced split frequency used in Europe. The plane had been pre-sold to a buyer in the UK but we were unable to complete it soon enough for his needs; hence the split channel add-on for the com. This plane is all set up for export to Europe and with a full price sale will gladly be flown to RARE Aircraft in Minnesota for disassembly and export to Europe with their experience. Price only includes our transportation to Minnesota. Export arrangements and disassembly by RARE Aircraft must be made at buyer's expense. It has a zero time W-670-6A Continental engine with all roller bearing and valve guide enhancements plus new generation STC'd pistons. We finished off this plane with a Curtis Reed prop of 99″ (not 96) for added performance.
$195,000 *
Cashier's check only
$ 5,000 to hold
Please call to discuss this plane only if you are a qualified buyer. We are too busy flying rides to take too much time to talk, although we'll spend hours with the proper buyer who really wants to take care of this collectible. A text is best.
Cell – (206)-730-1412 Ask for Ken.