Airplanes For Sale
Olde Thyme Aviation, Inc has been flying scenic biplane rides in delicious restored vintage aircraft for a full twenty five years now. While we certainly don't anticipate closing up the business in the near term, it is becoming clear that we are aging and someday will want to be "winding down" a bit.
After we use a plane for a lengthy period of time, we have it totally restored to our personal expectations. However, prior to putting a plane back into service for rides, we offer it for sale to see if we can find an interested buyer. So, as you read below, you will find totally restored planes that have not been flown at all in the ride operation; fully restored planes that are currently in service, planes that are close to being taken out of service for restoration and planes that are in the restoration process in case anyone wants to "step in" at a crucial point where they can control the final finish (i.e. colors, etc.). Each plane has a unique story and set of circumstances. I attempt to explain how each plane was selected when we purchased it originally, whether it was for its specific history or the quality of workmanship at the time we bought it.
We always shop for planes based on the quality of the wood work, fabric and AIRFRAME. We do not shop for a plane based on its power plant as we assume automatically that whatever engine is on it, regardless of how it is represented, we will not fly it. For example, when we purchased the 1940 Waco UPF-7, we flew it to Salinas and pulled off the Continental Engine and replaced it with a newly rebuilt from Gold Coast Aviation simply because we have a personal knowledge of the workmanship, reputation and dependability that we can trust. The engine that we "scrapped" only had 45 hours on it, but we didn't have personal knowledge of how it was built! We never fly an airplane with the power plant that it is represented with unless we have had it built to our own specs or had it taken apart by our own AI.
________________________________________________________________________________________
1975 Cessna 180-J #N6942V SN #18052566 
        

TTAF 1900 No Damage History! Engine 0-470S 725 SFRM; Prop Hartzell 3 Blade Scimitar PHC-CC3YF, Factory Corrosion Kit (V brace); Latest factory model large vertical stabilizer; Bonaire (Davis) Heavy Duty Sea Plane Engine Mount; McCauley Heavy duty wheels; 8:50 tires (or 8:00 if desired); 10″ Scott Tailwheel with Locking Tailwheel feature; Single Piece Windshield 2015; New Fuel Bladders (2014, 2015); New Paint (Sunquest–does all the Kodiaks) 2016; New Full grain Leather Upholstery and Heavy duty full floor wool carpet 2017;  McFarlane Flap/roller upgrade kit 2016; Fiberglass Wingtips 2016; Inspection/Observer doors; Atlee Dodge passenger jump seat (upholstered), BAS inertia reel harnesses; P Ponk landing gear reinforcement kit; New custom ANC cut panel for Garmin 650 Nav/com/GPS "suite" interfaced to Bendix King KC55A HSI system for display, Interfaced with EDM700 Engine Monitor, KN62A DME, GMA 340 Audio panel and GTX 327 Transponder (2015), & Garmin GDL88 ADS-B system. 3rd com antennae for emergency handheld, 406-ELT, Heavy Duty sealed high amperage battery, Extended baggage (carpeted wool with full grain leather rear bulkhead closure). NO STOL KIT installed and  VS stabilizers.  Extra parts include: Complete set of Bruce Custom Covers, NOS spare replacement pump, Spare Stinger (new) and new seat tracks (not installed) for when they should be replaced. New Cessna seat lock system (not installed).
This plane is a 10/10 inside and out. In 2009 I searched for a low time 180 with no damage history and then did everything I wanted to it that I ever dreamed of. It gets compliments wherever we go. Meticulously cared for and always kept in a heated hangar with a dehumidifier.  The only thing that I didn't get around to yet was to install a modern auto pilot. It was pre-wired for an S-tec 45 or 50 when the new panel/instruments were installed. To give you an idea of how this plane has been cared for, the instrument package with new panel alone was $ 40,000; paint job and detail to new stainless steel parts, roller kit, leading edge kit and seals was $ 24,000; Upholstery was $ 12,000, 3 Blade Hartzell and New Engine Mount were $30,000 (includes labor); etc, etc.  All told, I have 220,000 in hard dollars in this plane. The only reason I'm selling it is that I also have a Cessna 185 which we've just finished doing everything to in a similar fashion and I can use it to replace the 180.  I will miss this plane; it's been one of the happiest planes I've ever owned. I've used the plane to visit clients on the west coast and in the Mid-West so I've been able to depreciate it until my remaining "basis" is equivalent to the asking price. I actually enjoy the 180 better than the 185 due to the lower weight and carburetor for hot restarts. But the 185 is at full basis and "business decisions" decides the sale of the 180 over the 185 at this time. Flown regularly and maintained to highest standards. All records on ADLOG system.  This is a premium price for a  premium condition airplane!
 Asking Price: $ 165,000
Please call to discuss this plane only if you are a qualified buyer. We are too busy flying rides to take too much time to talk, although we'll spend hours with the proper buyer who really wants to take care of this collectible. A text is best.
Cell – (206)-730-1412 Ask for Ken.
_________________________________________________________________________________
UPF-7 FOR SALE: 1942 NC39727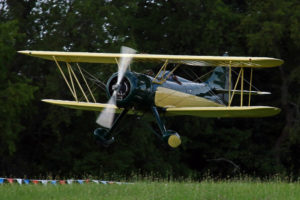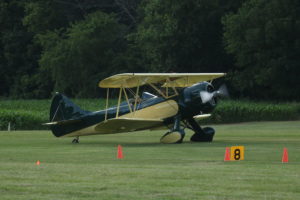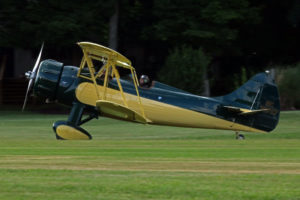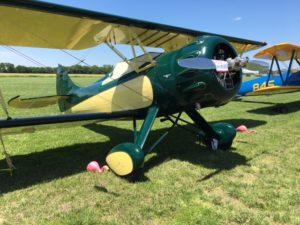 This plane was restored in 2004 by Tom Flock and Jerry Brown using
new wings from John Shue. It has only 500 hours on it since full restoration. In 2017, new fuel tanks were installed plus all forward wings were recovered by RARE AIRCRAFT in Minnesota. Yes, this is one of the three green and yellow planes that were restored by Tom Flock that many have "tracked and asked about." One was shipped overseas and one was destroyed in a crash. When we acquired it with only 400 hours on it since full restoration, we changed out the regular Continental W-670 engine for a newly built W670-23 "constant speed" engine with a rare Hamilton Standard 2B20-9 propeller (0 time SMOH). The plane cruises 20 mph faster than the standard non cowled W-670 engine with all the benefits of the lower operating temperatures of the Continental and the economy of fuel (about 13 gph). The plane has since been flown about 80 hours and we mainly use it to attend the National Biplane Fly in, the American Waco Club Fly in and the National Waco Club Fly in. It is hangared in a heated dehumidified hangar in Wisconsin just south of Oshkosh. New radio and ADS-B out has been installed as well as a 406 ELT. Front seat is a single seat leather upholstered configuration. All told, we have 320,000 in hard dollars invested in this plane. The amount of money we have put into this plane makes it totally non-marketable at this price. Why? Well, for only 30,000 more, you can get a newly remanufactured UPF-7 at RARE aircraft whom we hold in the highest esteem as the "gold standard" for Waco UPF-7 restorations. We've backed the price of this plane down by $100,000 below what a new RARE Aircraft restoration costs to make it reasonable for what we are asking for this beauty.  Own a plane with a history of Tom Flock, Jerry Brown, John Shue and RARE Aircraft all wrapped into one.                         
Asking Price:   $ 259,000
Please call to discuss this plane only if you are a qualified buyer. We are too busy flying rides to take too much time to talk, although we'll spend hours with the proper buyer who really wants to take care of this collectible. A text is best.
Cell – (206)-730-1412 Ask for Ken.
---
Cabin WACO FOR SALE: 1933 UIC Full Restoration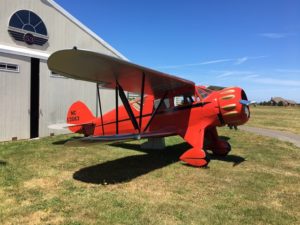 1933 UIC Cabin WACO: Full Restoration
Time Since Full Restoration: 15 hours; Continental W-670-6A 15 SMOH; Curtis Reed Prop 99″ 15 SMOH
This plane has a unique history and its history is the main reason we acquired it. The plane was ordered and built for  George Allan Hancock whom developed and owned Hancock Oil in Southern California and is also well known as the man whom donated "Hancock Park" in Los Angeles to the County which contained the La Brea Tarpits: a destination known to all grade school kids growing up in LA. Later Captain Hancock operated one of the CPT schools at Santa Maria, California——owned the Santa Maria Railroad (the reason for the match between his Cabin Waco and the Trail in the painting above). Today the airport in Santa Maria is known as Hancock Field because of his philanthropy and that of his wife after Captain Hancock passed.
This airplane was totally disassembled for a full restoration starting with the bead blasting and epoxy on the airframe; all new wood on the fuselage; new ribs and fittings as needed in the wings; restoration of the original "Air Brake" system, etc. However, we improved the handling characteristics with a Cleveland 210 brake system (no Johnson Bar challenge). The interior is done in Full Grain Leather. Fabric was painted in original Waco manufacturing colors of Vermillion Red on Fuselage and Silver/Gray on the wings. The com is the enhanced split frequency used in Europe. The plane had been pre-sold to a buyer in the UK but we were unable to complete it soon enough for his needs; hence the split channel add-on for the com. This plane is all set up for export to Europe and with a full price sale will gladly be flown to RARE Aircraft in Minnesota for disassembly and export to Europe with their experience. Price only includes our transportation to Minnesota. Export arrangements and disassembly by RARE Aircraft must be made at buyer's expense. It has a zero time W-670-6A Continental engine with all roller bearing and valve guide enhancements plus new generation STC'd pistons. We finished off this plane with a Curtis Reed prop of 99″ (not 96) for added performance. The yoke is a throw-over single yoke style with a 3/4 wheel. We will change out to a double yoke if desired for an extra $ 3,500.
   Asking Price:     $195,000 
Please call to discuss this plane only if you are a qualified buyer. We are too busy flying rides to take too much time to talk, although we'll spend hours with the proper buyer who really wants to take care of this collectible. A text is best.
Cell – (206)-730-1412 Ask for Ken.
________________________________________________________________________________________
CABIN WACO FOR SALE: 1937 UKS-7 NC17721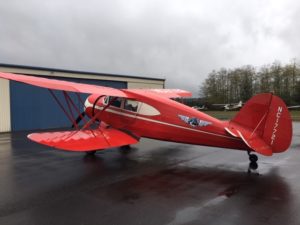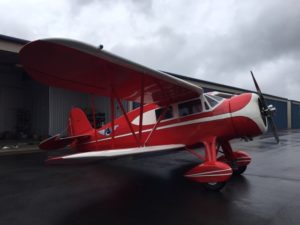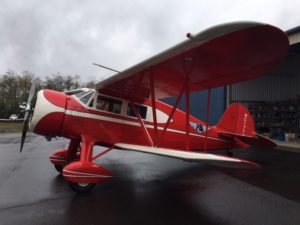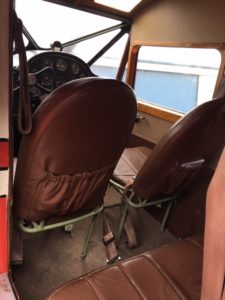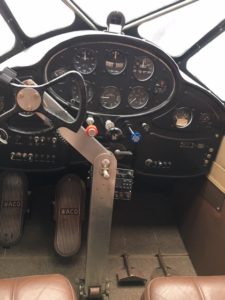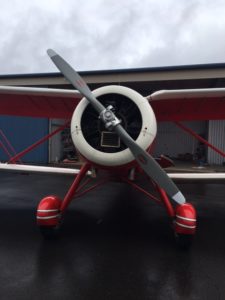 This airplane is "one of a kind." There were only two UKS-7 planes ever built by Waco. This is the only one remaining as a UKS-7. The other, which was built in 1939 was actually a VKS-7 which had it's engine mount changed to a Jacobs engine mount in 1959. We actually have this other plane on site as well although it is a bare fuselage currently awaiting a full restoration. This plane has only 1550 hours on it since new and less than 200 hours on it since it was restored in 2003. It was featured in Sport Aviation Magazine at that time. Because of our affinity for the conversion of Cabin Wacos to the Continental W670-23 constant speed engine, we acquired this plane in 2012 for this purpose. We had a -23 engine that we had acquired earlier with only 19 hours on it that the famous Bob Hitchcock had rebuilt in Florida. Bob has been a huge help to the antique aviation community over his lifetime from everything from engines to fuel selector valves and we have the utmost respect for him. We installed an entire new firewall forward—including the firewall itself which we upgraded to stainless steel. We then also removed the Johnson bar braking system and upgraded to Cleveland wheels and brakes. We've also installed an ADSB out system a 406 ELT. The propeller is a rare Hamilton Standard 2B20-9 freshly overhauled. This plane is all set up to go and price includes a spare zero time engine built by Radial Engines for a career of enjoyable vintage airplane flying. We've found that the lighter weight Cabin Wacos with the constant speed Continental engines fly at the same speed as the heavier Jacobs YKS-7s (we own both) with fuel consumption savings of 3 gallons per hour and less heat coming through the firewall into the passenger compartment. The plane is set up with a throw over yoke column which we prefer. We will replace it with a dual yoke if so desired for  $ 3,500.
Asking Price:   $ 125,000 
Please call to discuss this plane only if you are a qualified buyer. We are too busy flying rides to take too much time to talk, although we'll spend hours with the proper buyer who really wants to take care of this collectible. A text is best.
Cell – (206)-730-1412 Ask for Ken.
________________________________________________________________________________________
Stearman 450 hp For Sale: #N38953 SN 75-2363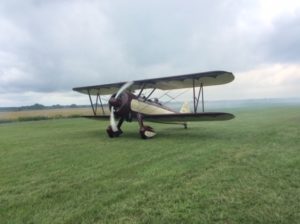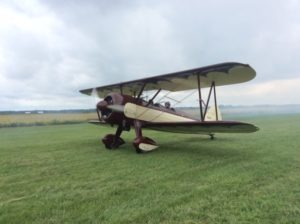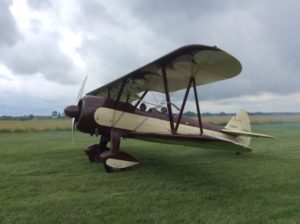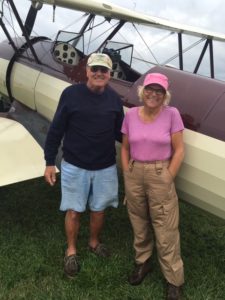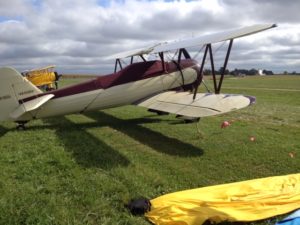 429 hours since Restoration; Engine 429 SMOH,  Propeller 2D30 429 SMOH
Years ago, after having flown to the National Stearman Fly-in at Galesburg three times from Seattle, we researched and went looking for a 985 powered Stearman to give us a bit more speed and reserve power when crossing the Rockies. We generally fly the Northern route following I-90 over Mullins Pass and Butte or the Wyoming route over Ogden, Rock Springs, Rawlins and Cheyenne. We narrowed our search to a Pete Reed restoration—well known work for a decade from the end of the 90s into about early 2000s.  Pete would do his restorations using the original regular length engine mount with the oil tank in the original location. This enabled the preservation of the cargo/storage area behind the pilot for luggage and gear on cross country trips. Although we are in great admiration of the other method of building a 450 Stearman up, we didn't want to give up the storage space for cross country flying. Also we wanted a plane that had a bit more fuel reserve so our endurance or distance between fuel stops would be equivalent to what we were getting in our 220 hp PT-17s. This plane has two 11 gallon tanks in the wings on either side of the standard 46 gallon mid wing Stearman tank. They fill from the main tank and feed automatically into the main tank without having to manage extra valves or compartments! We were also seeking a plane with a Tulsa engine on it (our preference).  We found this in #N38953. We've made two trips to Galesburg with it, flown across the Rockies six times and it has exceeded our expectations. Very comfortable with lots of reserve power. And to top it all off, at the Galesburg Fly-in 2016, we got the chance to meet Pete Reed personally whom is now retired in Florida. The photo above shows Cate with Pete at the cornfield picnic. What a treat. When I fly the plane with 23″ of manifold pressure, I get about 18-19 gph;  and the plane cruises about 115 mps. When flying at 25″ (about 1800 rpm) it consumers about 22 gps and flies at 125 mph. This is a great airplane that we've enjoyed immensely. Plane has been hangered continuously in an insulated and dehumidified hangar at our Wisconsin location south of Oshkosh. Records maintained with the ADLOG system.
Asking Price:  $ 125,000
Please call to discuss this plane only if you are a qualified buyer. We are too busy flying rides to take too much time to talk, although we'll spend hours with the proper buyer who really wants to take care of this collectible. A text is best.
Cell – (206)-730-1412 Ask for Ken.
—————————————————————————————————————————————————————————-
HAMILTON STANDARD PROPELLERS FOR SALE
Note: We do not buy propellers for investment or speculation. These are propellers we have bought for our own planes for use at the Museum of Flight in Seattle. As we have sold off our Travel Airs, one Cabin Waco and one Stearman, we are able to release extra propellers that we had purchased over the years and had overhauled for ourselves. What you see them listed at for sale is exactly what we have in them including original procurement cost plus the overhaul at either AC Propeller in Seattle or Northwest Propeller in Puyallup. A few of them were previously overhauled in which case they were "inspected" for us before purchase by NW Propeller.
2B20-15, polished, Zero Time full overhaul by AC Propeller-Seattle w/YT 7,500*
5404 Hub, Ground Adjustable Navy Contract Blades #4651, 102″ length, overhauled w/ YT 50 hours of use. Same as Hamilton Standard 1301 27C1 rated at 165 horsepower per blade (330HP Max). Can be 337'd on any vintage airplane such as Travel Air, Waco, Stinson, N3N etc. Is not on the Stearman TC but we know several people that have used this on Stearmans:  $ 9,500.
5006 Hub, Ground Adjustable Hub. Will hold 4350 blades or other models for use on 20 spline aircraft with max horsepower of 250 HP. $ 3,500.
.________________________________________________________________________________________